Hey Friends!
Last week I hinted that I might be pivoting away from "Hawthorn Law" as the name of my YouTube channel.
Well... that change became official this week as I made the not so easy choice to change my YouTube channel name from Hawthorn Law to Jim Hart.
Along with this change came a new Channel Banner (see above) as well as a new channel description on my about page.
I will also be posting a new "intro" video for those of you who have not yet subscribed to my channel.
One thing I have NOT done yet is change my channel URL. It seems that YouTube does not redirect custom URL's, so I need to create a checklist of everywhere that my old channel URL is so that I can change those quickly when I make that change. In hindsight, I should have used my name for that from the beginning. 🤦‍♂️
This post contains affiliate links. If you purchase any of the products referenced in this post, I may receive financial compensation. This won't cost you any more to use the link, but it will support this blog. Thank you in advance!
Working on my Personal Development
This week I did a lot of work on my own personal development. As I'm continuing to read The 10X Rule by Grant Cardone, I realized that I could be taking so much more action in my business to reach my personal and professional goals.
In addition, I went back and re-listened to an episode of The Get Paid Podcast by Claire Pelletreau where she interviews Brooke Castillo, founder of The Life Coach School. This episode originally aired in January of 2020 after Brooke's company had made $17 million in revenue the year before, with a profit margin that exceeded 50%. (If you are keeping track, that means that Brooke and her then husband/partner netted about $10 million in personal income in 2018).
What was fascinating to me about this episode was not how much money Brooke made, but rather the way in which she did it. As she tells it on the podcast, she made $1 million in 2015, $2 million in 2016, $5 million in 2017, and then $17 million in 2018.
She attributed her growth to several factors:
The maturity of her podcast
Brought on her husband as her business partner
Hiring Frank Kern as her business coach
Realizing that she could "buy" customers with Facebook ads
This is very similar to where I am at right now with my business... and leads me to the point of this section on Personal Development.
Fear has been holding me back (but no more!)
The reason I went back to listen to Brooke's episode on Claire's podcast is because I had happened upon another podcast earlier this week where Brooke spoke with Ryan Moran about how the most successful entrepreneurs are able to process their feelings to reach new heights in their business.
This was a profound concept for me.
My fear of failure, and my unwillingness to face that fear and process it were holding me back from reaching true success.
Here's what I mean.
Beginning in January of 2021, I started running Facebook ads to get new leads for a webinar I was running that promoted my LOCK it Down™️ (legal) Toolkit. During a span of 6 months, I spent approximately $35,000 on Facebook ads, which is a huge number.
But in terms of revenue, I sold $67,000 worth of my online course during that same time, and if you counted payment plans, my total estimated revenue was $109,000!
That's a 3:1 return on my money.
Now, if I told you that I would give you $3 for every $1 you gave me, how much money would you give me? This is not a trick question... you would give me as much money as you could!
Which begs the question...
Why did I stop running ads last June?
There is only one explanation... FEAR.
I was scared of what was happening in the Facebook landscape (i.e. iOS privacy changes)
I was scared that my product would stop being profitable
I was scared that my ROI wasn't "good enough"
I was scared that I would be successful...
But at the same time, I'm starting to realize that the only way to truly build a business is to aggressively acquire customers, which means investing in yourself.
As Ryan Deiss once said, "if you want rice, you don't go plant a rice field. You go to the store and buy rice."
And that's what I need to do...
What does this mean moving forward?
Most of my current sales are coming from my email list, which is growing at a painfully low rate of 1.6% per month.
I'm in the process of attempting to "guesstimate" what a profitable sales funnel will look like for my program.
One of the issues I'm coming up against is the $97 monthly price point. At that level, it is very difficult to run a profitable ad campaign from the beginning. In other words, depending on how much it costs me to acquire a customer, I may actually lose money for the first 1-2 months of each customer's membership.
But that is not to say that it is impossible.
And I'm someone who likes to have a certain level of "predictability" in my life. That is to say, I like to make certain assumptions about what could happen before I actually invest my money into a project.
This is why I've been playing around with a software tool called Geru. Geru allows you to map out funnels and then run various scenarios to determine if how profitable your sales funnel will be, and determine what tweaks you need to make if your funnel is not profitable.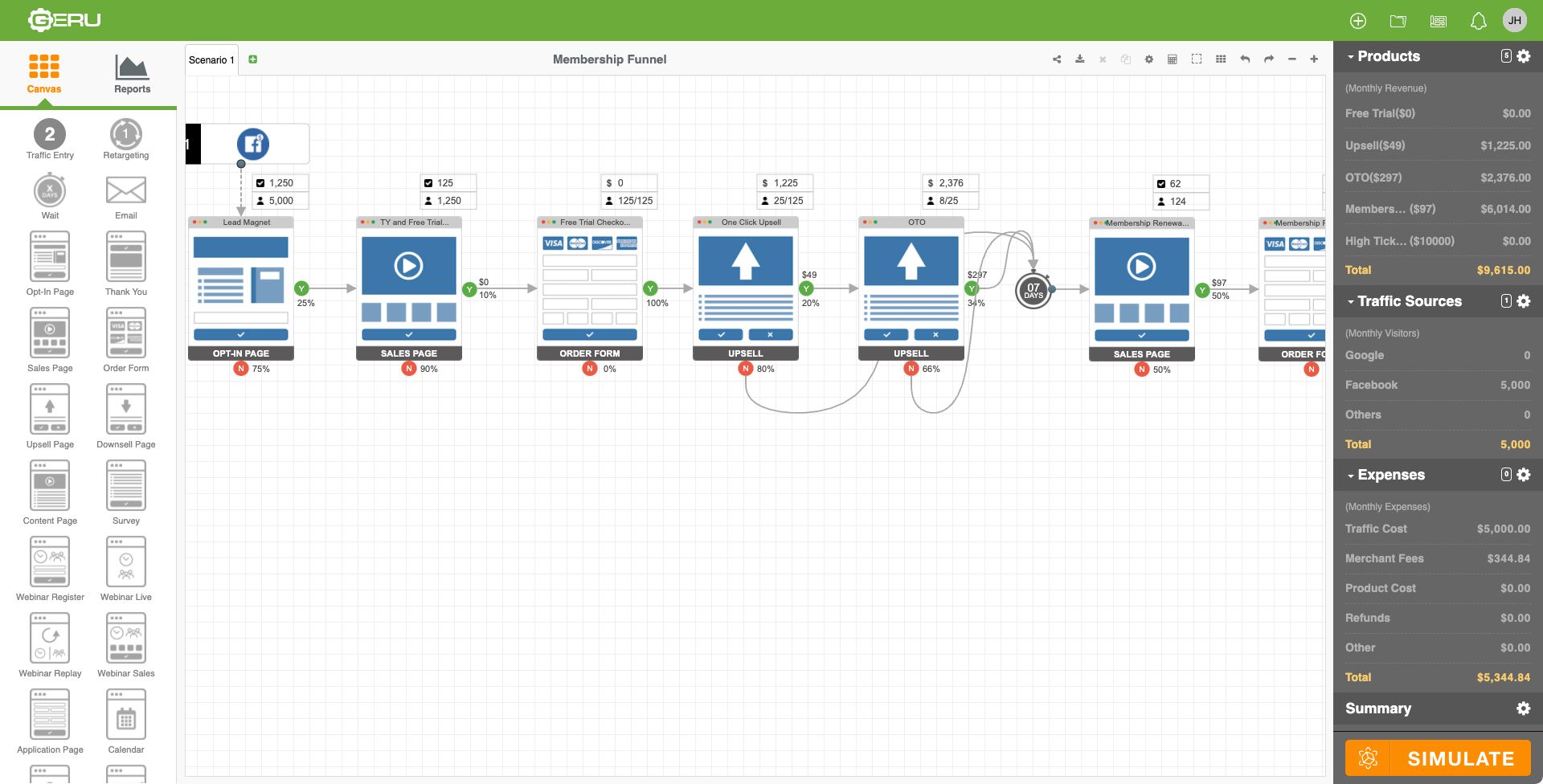 My analytical, left-brain loves this tool!
The bottom line is that I've decided to start running Facebook ads again in the next 30 days in an effort to continue to build and grow my membership.
3 Goals for the Week
Although I didn't track any "goals" for the week, I am continuing to chip away at my 12-week year.
This week I was able to complete 93% of my weekly "tactics" towards my goals. In addition, I added a bunch of new tactics to future weeks.
The only tactic I did not complete was creating a new introductory video for my YouTube channel, although I did script it out and find lots of old pictures and images that will be incorporated into the video.
Stay tuned!
❤️ My Favorite Things
📚 Book - I'm still reading The 10X Rule by Grand Cardone. I did not get a lot of reading done this week.
🎤 Podcast - This week's podcast is Brooke Castillo's interview of Ryan Moran, referenced above, where they discuss "Success and Your Feelings".
🖋 Quote of the Week
"The fight is here. I need ammunition, not a ride..."
Volodymyr Zelensky, President of Ukraine
Please take some time this week to send positive vibes to the courageous President of Ukraine and his people this week. I still hold out hope that this unnecessary conflict will come to a peaceful solution soon.